Simply enter your registration and choose your border and flag options. Then, enter your postcode to find your nearest Collection Point.
Collect your number plates at a time that's convenient for you. Once the retailer has seen your documents, your plates will be made while you wait.
Compare the Collection Points in your area to find the best deals and have your new number plates fitted securely to put your mind at rest.
Fully road legal number plates
Range of plate sizes for cars and bikes
Flag and border options available
When collecting your number plate, don't forget to bring your documents.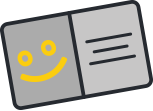 To confirm your name and address
To show you're allowed to display the registration number